Over the years, hearing the silky voice of radio dj's (Casey Kasem, Dick Clark, Rick Dees, etc.) as they took us on a musical journey to review the year's Top 40 Hits always seemed the perfect way to close out a year. Hearing all of the favorites we might have forgotten about as the months brought in new releases and with that, new favorites, it was great to be reminded of a few that may have dropped off the radar!
With that in mind, we thought it would be fun to look back and see what your favorites (and ours!) and some of your most requested colorways were in 2015. This will help us put together a rocking "playlist" for our "Goodbye, 2015!" and countdown to 2016 party!  It's the last update of the year, you guys!  It's a little bittersweet so let's have some fun! So, what was your favorite colorway of 2015?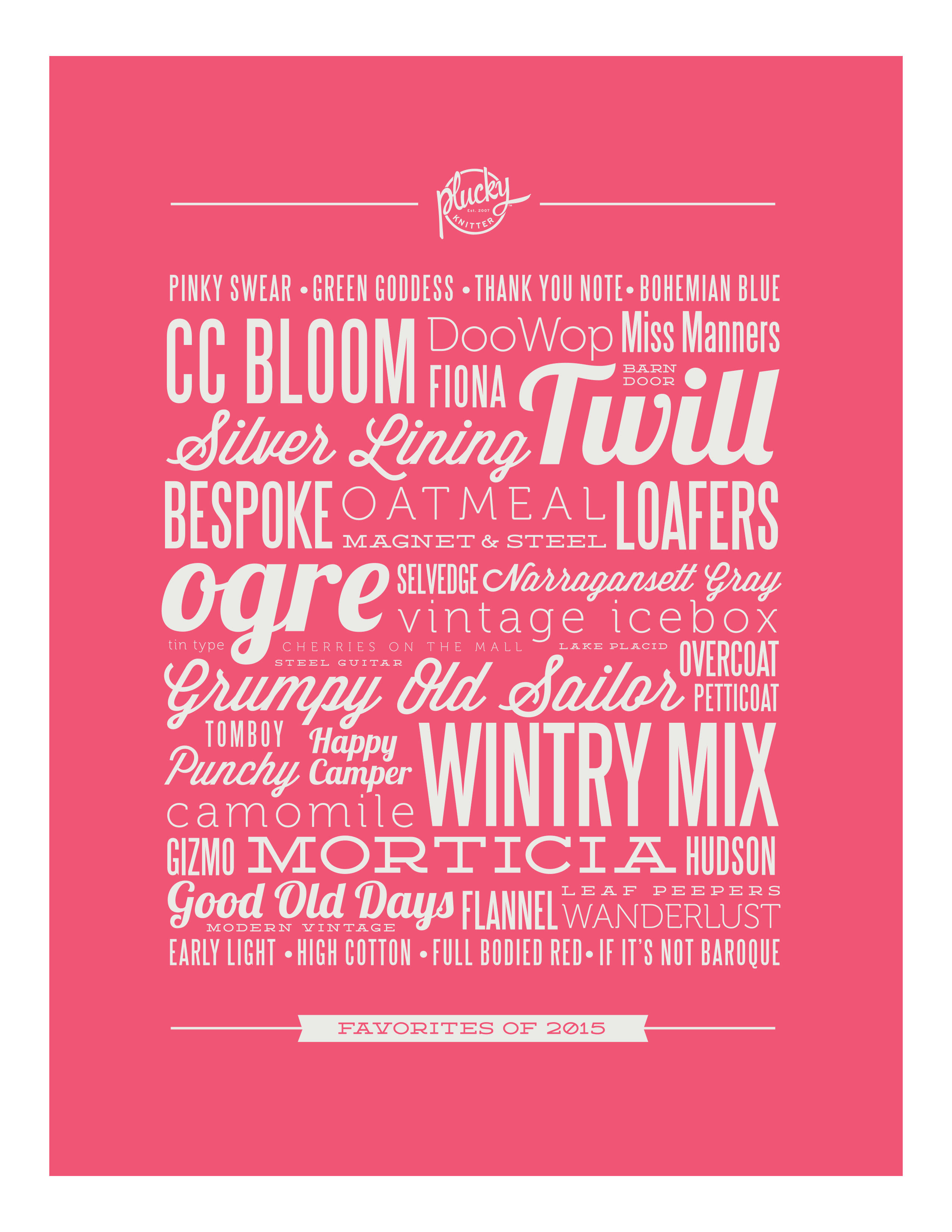 This Blog Update is going to be full of your most requested colors and bases – your favorites, our favorites – and will include some of the new favorites, like Grumpy Old Sailor (he sure made an impression on all of us)! Who remembers buying a 45-rpm record (I think there's an entire generation out there who have never even seen a 45 rpm record!) and finding something interesting on the B side?  Well, our version of the B side will be those colors and bases you post in the Wishlist thread over the next few days.
Here is a sneak peek of the colorways you can expect to see at this last update to send us off into 2016:
Here's a taste of what to expect for bases in this update, but remember; the lists of favorite colors & bases aren't finished just yet! Be sure to keep an eye on the Update News & Announcement thread in our Ravelry group as the weekend progresses to find out what other favorites will be added!
Cashmere
Cachet
Crew
Feet
Oxford
Primo Aran
Primo Fingering
Primo Sport
Primo Worsted
Scholar
Single
Snug
Snug Fingering
Snug Worsted
Sophisticate
Traveler
Traveler DK
Trusty
Another fun addition to this update will be the option to pre-order NEW Plucky Totes and Project Bags with our new collage graphic on them. You can pick from the Bases Design in grey, or the Colors Design in pink, blue or green!
Sunday, December 20th at 8:00 pm

, EST
and

Monday, December 21st at 9:00 am

, EST at the Plucky Blog
*This Update will include FREE SHIPPING! If your order is domestic, it will ship for free. International transactions of 2 or more skeins within the same transaction will also ship for free. Unfortunately, at this time we will not be able to combine multiple international orders for free shipping. Any single skein international transactions will include shipping costs.
So, what was your personal favorite of 2015? Please help us finalize the list of colors and bases for this (and every) update. Your input in the Wishlist thread is extremely helpful! Can't recall offhand what you may have seen in the early updates of 2015? Be sure to download the Plucky Knitter app where you will find a huge collection of photos of Plucky colors, listed by name and color family, as well as color pairings that Hayley and I find work particularly well with all of our favorites.
This will be the last pre-order update of 2015, so your purchases will ship according to usual time-frames and will be headed your way the end of the third week in January, 2016. We hope 2015 was kind to you and we thank you so much for your warmth and friendship! As a quick housekeeping note, we will be off-grid (lights out at the barn) and take a bit of down time with family and friends. Although the barn may be dark after we get all the things shipped to you we promised before year-end, you can rest assured that we are plotting an planning a fun and festive 2016!
If you are new to Plucky we invite you to read all about our Blog Updates in the FAQs found 
HERE
. Also, be sure to sign up for our
eNewsletter
and go to our Plucky Knitter app so you are always up-to-date on events and news.
Warmly,